TERMS AND CONDITIONS
NOTE: Express orders - if need shipped out today, order must be placed by the following times:

UPS: 1:00 P.M. Eastern Time
FedEx: 12:00 P.M. Eastern Time
Features/Applications
These switches are a slack cable style with Slow-Make - Slow-Break contacts. The switches are not 'Positive Break' or 'Positive Transfer.' These devices should NOT be used for any Emergency Stop application. The function of these switches is such that a device that is listed as NO uses a NC contact Block which is held open by a spring in the switch body. Pulling of the ring eye collapses that spring, allowing the Contact Block to close and actuate the circuit it is connected to. Releasing of the rope then allows the spring to expand thereby opening the contacts. The reverse is true for a NC listed switch. The contact cavity of the switch has provision for the addition of one more contact block. Each captive terminal on the replaceable contact block will accept (2) #14 AWG stranded wires and the contacts are gold plated to eliminate high resistance tarnishing. The life of these switches is in excess of 1,000,000 mechanical operations. The Momentary version of this light to medium duty switch can most often be found being used with a rope hanging down for control of an overhead door. The maintained style requires that resetting take place at the switch so access must be considered when installing it. The housing and cover are molded from high impact glass-filled polycarbonate plastic.The NEMA/UL/IP classification (Raintight) allows these switches to be used outside. The maximum recommended rope (not supplied) length is 33 feet with a maximum interval support of 10 feet when horizontal. Switches are provided with three 1/2" NPT conduit openings.
Electrical Ratings

"HEAVY DUTY - A600 / N150"
Listed under UL 508 - File # E 58589
Certified under CSA C22.2 - File # LR 3648
Third party certified under DEMKO File # FI-17205
Environmental Temperature Range

Operating: +32°F to +131°F (0°C to +55°C)
Storage: -40°F to +185°F (-40°C to +85°C)
Note: Operating temperatures at 0°C are based on the absence of freezing moisture and liquids.
Contact blocks are field replaceable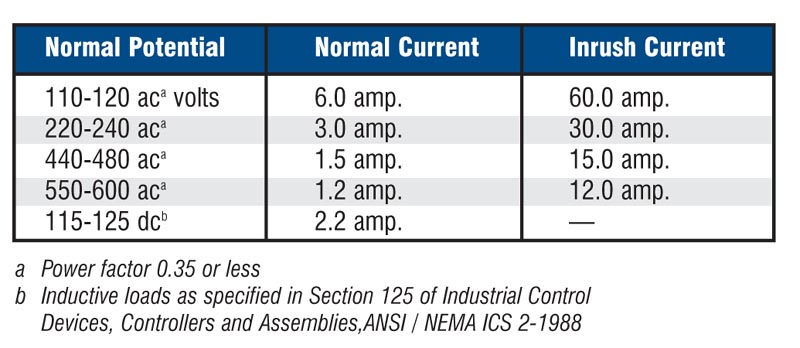 WARNING - DANGER
These products should only be used where point-of-operation guarding devices have been properly installed & maintained so that appropriate OSHA and ANSI B11.1 regulations & standards are met. Misapplication of the products on machinery lacking effective point-of operation safeguards can cause serious injury to the operator of that machinery.
---------------------------------------------------------------------------------------------------------------------
AVERTISSMENT - DANGER
Ces produit doivent seulement être utilisés sur des postes à risque correctement sécurisés et entretenus afin d'être conforme aux standards et régulations en vigueur (CSA, CLC). Un mauvais usage de ces produits sur des machines et des postes de travail non sécurisés de manière efficace peut causer des blessures graves au technicien maniant ces machines.