TERMS AND CONDITIONS
NOTE: Express orders - if need shipped out today, order must be placed by the following times:

UPS: 1:00 P.M. Eastern Time
FedEx: 12:00 P.M. Eastern Time
Features/Applications
These switches are "slack cable" style with 'Slow-Make' contacts. The switches are not 'Positive Transfer' and they do not latch in any position. They should NOT be used for any Emergency Stop applications. The action of these devices is that when the switch actuating arm is pulled by a cable the switch contacts will change state, that is, the NO will be closed and the NC will go open. When the force on the cable is removed from the actuator arm, spring pressure will return it to its normal position, while the contacts are held in position through a ratchet mechanism. The next time the cable is pulled, the action is repeated with the contacts returned to their original state. The housing and cover are made from a glass filled black polycarbonate. The mounting base and double end actuator arm are die cast from a high strength zinc alloy. All exterior steel components are made from #303 Stainless. Switches are provided with two 1/2 NPT conduit openings. The total maximum cable length recommended is 200 feet with a maximum interval support of 10 feet. The life of these devices is in excess of 150,000 mechanical and 1,000,000 electrical operations. Each captive terminal on the replaceable block will accept (2) #14 AWG stranded wires and the contact are gold plated to eliminate high resistance tarnishing. These devices can be found on various conveyor installations as well as other stations that require the "pull-on", "pull-off" function that this being provides. Their rugged construction and long term reliability make these cable switches extremely well suited to function within various industrial environments.
Note: The only difference between the 04945-000 and the 04945-500 is the relationship of the conduit entrances to the mounting feet, which is a 90 degree rotation.
Electrical Ratings

"HEAVY DUTY - A600 / N150"
Certified under CSA C22.2 - File # LR 3648
CE Compliant IEC/EN 60947-5-1
Third party certified under DEMKO Certificate # D-01891
Environmental Temperature Range

Operating: +32°F to +131°F (0°C to +55°C)
Storage: -40°F to +185°F (-40°C to +85°C)
Note: Operating temperatures at 0°C are based on the absence of freezing moisture and liquids.
Actuating arms and contact blocks are field replaceable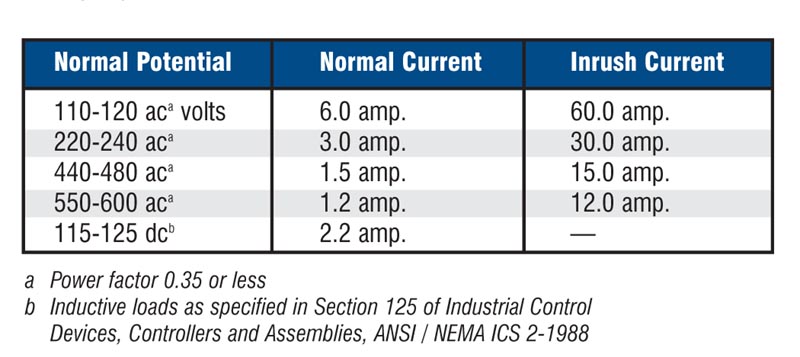 WARNING - DANGER
These products should only be used where point-of-operation guarding devices have been properly installed & maintained so that appropriate OSHA and ANSI B11.1 regulations & standards are met. Misapplication of the products on machinery lacking effective point-of operation safeguards can cause serious injury to the operator of that machinery.
---------------------------------------------------------------------------------------------------------------------
AVERTISSMENT - DANGER
Ces produit doivent seulement être utilisés sur des postes à risque correctement sécurisés et entretenus afin d'être conforme aux standards et régulations en vigueur (CSA, CLC). Un mauvais usage de ces produits sur des machines et des postes de travail non sécurisés de manière efficace peut causer des blessures graves au technicien maniant ces machines.