TERMS AND CONDITIONS
NOTE: Express orders - if need shipped out today, order must be placed by the following times:

UPS: 1:00 P.M. Eastern Time
FedEx: 12:00 P.M. Eastern Time
Features/Applications
The following selector NEMA 12/13, IP65 switches are hand operated, control circuit devices, rated 'Heavy Duty' normally for use with electromagnetic equipment. The die-cast zinc body, is painted with a dry powder paint. The die-cast zinc wing lever is either painted black or nickel plated. Each terminal will accept (2) #14 AWG stranded wires. The switches are supplied with all mounting hardware and a solid santoprene rubber gasket which provides an oil tight seal upon installation. The mechanical life of these devices is 500,000 operations. These switches can be found on a wide variety of machinery. Their rugged construction and long term reliability make these switches extremely well suited to function within various industrial conditions.

Electrical Ratings
"HEAVY DUTY - A600 / N300"
See attached Chart
Certified under CSA C22.2 - File # LR 3648

Environmental Temperature Range
Operating: +32°F to +131°F (0°C to +55°C)
Storage: -40°F to +185°F (-40°C to +85°C)
Note: Operating temperatures at 0°C are based on the absence of freezing moisture and liquids.
Note: This is an example only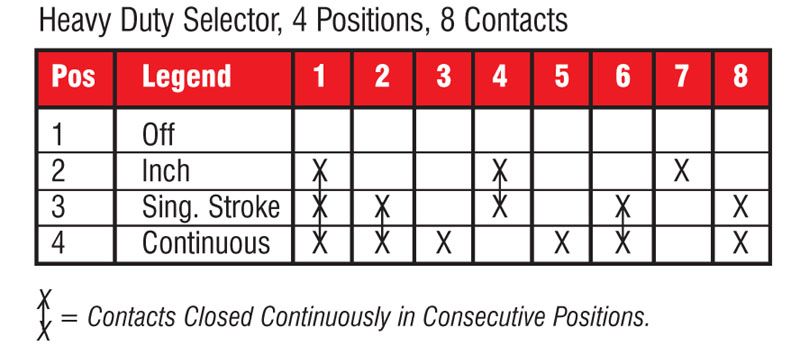 Note: Legend Plates are REQUIRED and CANNOT be added after the switch is assembled.
Legend wording MUST be specified when ordering the switch.
Legend "OFF, INCH, SINGLE STROKE, CONT." is a Standard - ALL others are Specials.
Note: A worksheet is available in the Downloads section at right on individual item page.
To use this worksheet:
Determine from your circuit diagram the number of positions desired and the number of circuits to be controlled. Place an "X" to indicate what contacts should be closed in which position. Contacts are normally continuously closed in consecutive positions. Refer to the example above. Omit the vertical line if contacts are open between consecutive positions.


WARNING - DANGER
These products should only be used where point-of-operation guarding devices have been properly installed & maintained so that appropriate OSHA and ANSI B11.1 regulations & standards are met. Misapplication of the products on machinery lacking effective point-of operation safeguards can cause serious injury to the operator of that machinery.
---------------------------------------------------------------------------------------------------------------------
AVERTISSMENT - DANGER
Ces produit doivent seulement être utilisés sur des postes à risque correctement sécurisés et entretenus afin d'être conforme aux standards et régulations en vigueur (CSA, CLC). Un mauvais usage de ces produits sur des machines et des postes de travail non sécurisés de manière efficace peut causer des blessures graves au technicien maniant ces machines.
Add To Cart/Request Quote
04925-xxx

04925-557


N/A

CH 501 80508-126

N/A

Switch locks and Key is removable in all positions

N/A

500vDC thru 60Hz

Contacts will break 160 amps.

N/A

As specified by customer.

Add To Cart
Request Quote
04926-xxx



N/A

None

N/A

Switch contacts are maintained in all positions

N/A

500vDC thru 60Hz

Contacts will break 160 amps.

N/A

As specified by customer.

Add To Cart
Request Quote